Alan Kelly TD
Thank you for visiting my website. I was honoured to have been given a mandate to serve the people of Tipperary and will continue to do my best to deliver for all my constituents.
I was delighted to have served as Minister of Environment, Community & Local Government, having previously been Minister of State at the Department of Transport, Tourism and Sport with special responsibility for Public and Commuter Transport.
In order to ensure that I deliver the best possible information for my constituents, I welcome any suggestions for the site. I also invite my constituents to inform me about any events coming up in your area and I will advertise it here for you.
Please direct all other comments, suggestions and events to office@alankelly.ie.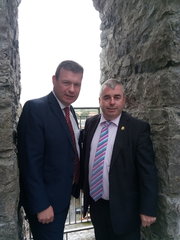 I have been raising the issue of the funding required to carry out phase two works on Nenagh Castle with the Minister for Public Works for months now.

After his visit last week, I have subsequently been in touch with him and I am confident that the Minister will provide funding to commence the works that have been planned for many years now.

Nenagh Castle looks fantastic and has had record numbers of visitors over the last year. We need to continue this and developing the original entrance to the castle, completing more renovation works and looking at an interpretive centre would really enhance the visitor experience of this fabulous attraction. I'm confident that Minister Moran will help us with this and that funding will be provided in the coming months.
Permanent link | Posted in