Alan Kelly TD
Thank you for visiting my website. I was honoured to have been given a mandate to serve the people of Tipperary and will continue to do my best to deliver for all my constituents.
I was delighted to have served as Minister of Environment, Community & Local Government, having previously been Minister of State at the Department of Transport, Tourism and Sport with special responsibility for Public and Commuter Transport.
In order to ensure that I deliver the best possible information for my constituents, I welcome any suggestions for the site. I also invite my constituents to inform me about any events coming up in your area and I will advertise it here for you.
Please direct all other comments, suggestions and events to office@alankelly.ie.
First Data, the world leader in FinTech are setting up their European R&D Headquarters in Nenagh and work on their site in Stereame on the Limerick road is about to commence.  They have already announced that they will be recruiting 300 people for the site and are opening an recruitment office in the town centre in the coming weeks.
I have just spoken to First Data executives over the last week and they have now created the following page https://www.firstdata.com/en_ie/about-first-data/careers.html for prospective candidates to put forward their interest in any of the positions that will become available. People can email the company directly at recruitmentnenagh@firstdata.com and express their interest or get more information.
Permanent link | Posted in
I am delighted to confirm that First Data will be opening a new recruitment office in the town centre in Nenagh early in the New Year. This is in preparation for the opening of the new R&D facility in the town which is expected to commence construction in the coming weeks.
I have been speaking with the senior executives in First Data constantly and a number of them have been to Nenagh again during November and December last year. The construction of the new facility will commence in the coming weeks. It will be a great milestone for the town to see this happening as we welcome one of the largest Fintech companies in the world to the Nenagh. Personally, it is very satisfying for me to see this day come having worked night and day on this project for two years.
Permanent link | Posted in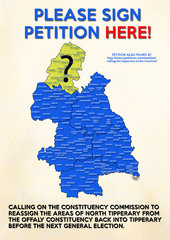 I am calling on every one in Tipperary to sign this petition before January 6, 2017, the petition will then be sent as a submission to the constituency commission.  The countdown has now commenced to the next boundary review report which should be completed by Summer 2017. We need to make sure that the electoral commission get a very clear understanding that breaking county boundaries is not acceptable, particularly for large counties like Tipperary.
Earlier this year over 10,000 people from North Tipperary were forced to vote in the Offaly constituency in the General Election.  This is a decision that they were not consulted on enough and which flies in the face of common sense considering they're represented locally on Tipperary County Council. 
I welcome the announcement by the Minister for Education, Richard Bruton, that 159 primary and special schools in Tipperary are to benefit under the minor works grant scheme
Each school will get a fixed sum of €5,500 and then they're allocated €18.5 per pupil on the basis of their 2015/16 figures.
This is extremely valuable money for the school as it allows them to carry out vital minor works such as the replacement of doors or painting works for example, which need to be attended to urgently and on a frequent basis. This will also be of benefit to the students who will learn in an improved environment."
Permanent link | Posted in