Gaelic Players Association Campaign
Posted by Alan Kelly on April 01, 2009 at 12:22 AM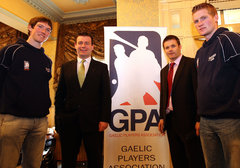 Today I was at the launch of the GPAs campaign to maintain the grants that inter county players get as a contribution to the expenses they incur during the year. I was the first member of the Oireachtas to actually join the GPA and as far as I know I remain the only national politician who is a member of the organisation. I am a huge fan of GAA players and the commitment they give to their games. They offer a huge enhancement to cultural life in Ireland and they are great role models as well.
The grants are but a token to acknowledge the contribution these players make and thansk why I think it is essential that they are maintained. Other sports people get a contribution from the Sports Council and these players should be no different.
The GPA Chief Executive has acknowledged that we are living in different times now and is willing to look at some concession because of this, but I would not like to see any real deviation from what has already been agreed and put in place.
Permanent link | Categories: Arts Sport & Tourism • GPA • GAA • Tipperary • Limerick