Campaigning with Eamon in Cork
Posted by Alan Kelly on May 01, 2009 at 11:09 AM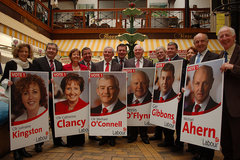 Today and yesterday Eamon Gilmore was with us in Cork. We had a social evening in the Rochestown Park hotel on Thursday and there was a huge crowd present to here Eamon and myself speak. It was a great opportunity to rally the troops again for the final 5 weeks. it also gave me time to meet up with some of the new candidates that have come to the field in the last few weeks. I was really pleased to see so many new, young faces amongst them.
Then it was on to May Day, a very special day for the Labour party. We spent much of the day in Cork where we launched the local election campaign for all the Cllrs and candidates in the city. We have excellent Cllrs in Cork city who work extremely hard and I'm very confident that we will win even more seats this time around in the city, with two seats in some wards.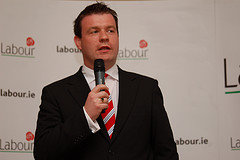 We got a great reception in Cork, where Eamon was very well received by the people who recognise that he is the most outstanding political leader in Ireland and the only one that seems to be making sense at the moment - connecting with real people whose lives have been damaged by the wastefullness and ineptitude of this Government.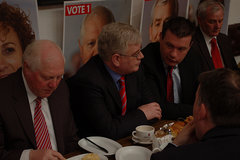 Permanent link | Categories: Kathleen Lynch • Ciaran Lynch • Sean Sherlock • Alan Kelly • Eamon Gilmore • Michael McCarthy • Denis O'Flynn • Michael Ahern • Catherine Clancy • Michael O'Connell • Paula Desmond • Lorraine Kingston • John Kelleher