Morale of Public Service is a Major Worry
Posted by Alan Kelly on May 24, 2009 at 02:06 PM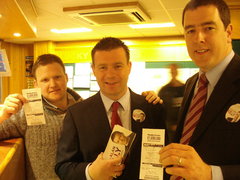 Running across the country trying to meet as many people and shake as many hands as possible at the moment. Many of the conversations involved light-hearted banter, but when you get into the serious nitty-gritty with people, you come across some disturbing trends.
Right now, public service morale is at a disturbingly low level. Whether it is teachers, nurses, administrators, engineers, every public servant you meet has plenty of valid reasons to angry. The worry is if will this start affecting performance, as it is bound to and will the vulnerable people who need the public service the most, suffer the most?
Public servants seem to be dejected as they feel their work is suffering because of cutbacks forced upon them by incompetent masters. You know much of it has nothing to do with the pension levy or personal finances, public servants seem to be stretched across the board. Schools are losing language support staff, special needs staff but the government to my knowledge have never held their hand out and said 'Is there anyway we can help you without money?'
No matter what the state of the public finances, there is always room for government support even if it is without money. They do not seem to have the capacity to do that. The hope is that Labour can offer something different and we will.
Permanent link | Categories: Communications • Community Rural & Gaeltacht Affairs • Defence • Education • Finance