A Big Week for Former Dell/Mid West Workers as EGF Starts Rolling
Posted by Alan Kelly on February 11, 2010 at 10:28 PM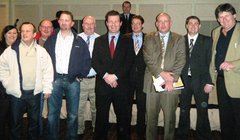 This is a huge week for the former workers in Dell, Banta, Flextronics, Irish Express Cargo and the other companies that were closed as a result of the Dell pullout of Limerick in January 2009. On Wednesday morning I met with the EU Commissioner for Employment, Mr. Andor and got assurances regarding the flexibility of the EGF scheme that can be used for job placement, training and starting your own business. These are the three key pillars under which workers can used their share of the €2.8 million that was allocated to them.
On Wednesday night there was a mass meeting of workers in the Strand Hotel in Limerick. At this meetin the Government appointed representatives answered questions regarding how to access the fund under those three pillars. There were at least 800 people in attendance. I came back from Strasboug to attend the meeting and update the workers on the meeting with Commissioner Andor and his officials.
Following on from this there is a two day workshop for all the workers in the South Court Hotel in Limerick where up to 60 exhibitors will offer their services to help the workers under the three pillars outlined. At todays meeting, well over a thousand workers went to the various stands to get their information and make their choices.
However, there are still some issues that the Government need to sort out immediately. Chief amongst them is the issue of social welfare.allowances to former workers. This fund is for the workers. It cannot be used to supplement other agencies work or affect their social welfare entitlements. There is no doubt about this. The Government needs to get its act together and point htis out and communicate it to all its offics in the appropriate manner immediately.
Permanent link | Categories: Dell • EGF • Mid West • alan kelly