Jobs boost for Nenagh
Posted by Alan Kelly on March 19, 2010 at 04:56 PM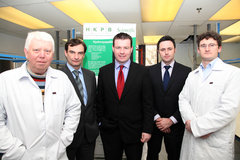 I am delighted to announce the creation of new jobs for Nenagh after HKPB Scientific revealed plans to open a facility in the town.
HKPB decided to bring the new facility to Nenagh after I personally intervened to draw their attention to the facilities on offer in the town.
I am delighted to have attracted a company of this quality to Nenagh. They are creating the type of jobs we need, high-value, export led jobs that will boost the entire regional economy.
These jobs will bring money into the community and will have a very positive effect for all businesses in the town and the local area. It's a massive boost for Nenagh and it comes at a time when good news is in short supply.
Nenagh offers unrivalled potential for companies and it baffles me how the Government can allow facilities such as Lisbunny lie idol and fall into disrepair, when there are innovation led, high-potential businesses such as HKPB looking for a base.
We are talking about a pioneering company that is founded and run by highly educated young Irish people and they should stand as a symbol of what is required to get this county back on its feet.
Companies such as HKPB offer Nenagh sustainable growth into the future and I expect to see a great deal of jobs coming to the town as a result of this announcement, both directly and indirectly.
This is the first high-potential start up enterprise to come to Nenagh in 25 years and I will continue to work on ensuring that this announcement is the first in a series of good news stories for North Tipperary.
Chief financial officer (CFO), David O'Flynn said "Without Alan Kelly these jobs would be going elsewhere. We were very close to moving to another area before Alan offered the alternative of Nenagh by putting forward a very convincing argument for the potential in North Tipperary."
The company is a leader in the biotechnology area, producing products such as a pioneering form of bone cement, used in procedures including hip replacements. It has also developed a coating technology that will prevent the spread of the MRSA bug.
Permanent link | Categories: Enterprise Trade & Employment • Munster • Nenagh • Tipperary