DWYER FAMILY DESERVE INDEPENDENT INVESTIGATION INTO MICHAEL'S DEATH
Posted by Alan Kelly on May 09, 2010 at 09:28 PM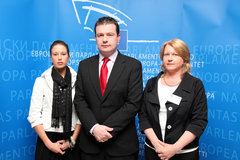 I am calling for an independent investigation into the killing of Tipperary native, Michael Dwyer in Bolivia.

An independent investigation into the killing Michael Dwyer is the only possible solution to this most serious issue.

Michael Dwyer was a loving and much loved son of the Dwyer family. 

He was a loving, caring person who came from a multi-cultural background.

Last year he was tragically shot dead in Bolivia and the quality of the information emerging from authorities there is suspect.
As an Irish and EU family they are entitled to answers. 

I am delighted that Irish MEPs will support the family in this endeavour and we will be writing to the EU's High representative for Foreign Affairs, Catherine Ashton, to support the family.

We wish to support them because they are entitled to proper answers.
The number of contradictory information is astounding and only an independent international investigation will fix this.

The family are determined to find answers and this is why we have taken their case to the European Parliament.

As Michael was a European Citizen, I would hope that the EU can support the efforts of the Irish government in securing an independent investigation into the matter as it will be the only thing that will give the family some peace of mind."
Permanent link | Categories: Foreign & European Affairs • Alan Kelly MEP • Michael Dwyer • Dwyer Family • Bolivia • Independent Investigation • Brussels