INVEST NORTH TIPP UP AND RUNNING
Posted by Alan Kelly on February 16, 2011 at 03:46 PM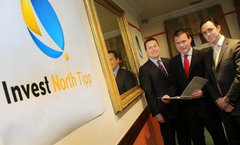 The partnership, Invest North Tipp, has now been officially launched. The programme ring fences €1 Million for high potential start-up businesses in North Tipperary.
A simple way of describing it is that it is almost like a Dragons Den for North Tipperary – although it is confined to the areas that are likely to yield employment in the future, ICT, pharma, medical devices and clean tech. The pool of finance available is €1million and two investment companies have come on board, Ronoc & Tolisons.
Both of these are leading Irish Investment companies with a track record and reputation for delivering results. The programme would work by companies going through a strict investment application and if successful the investors would take an equity share in the company.
It came off the back of research commissioned showing that lack of capital and poor entrepreneurial support were killing job creation.
It would be my hope that this will be a first step towards marketing North Tipperary as a place of doing business – an entrepreneurial hub. A scheme like this has never been tried before and I have no doubt that it will allow North Tipperary to see through its job potential in time. It is the best economic news North Tipperary has had for quite a while and the partners, Michael Madden and David O'Flynn deserve tremendous credit their support in this partnership.
Permanent link | Categories: Enterprise Trade & Employment