Inspirational 'Visit Nenagh' Cycle Team
Posted by Alan Kelly on February 13, 2012 at 02:32 PM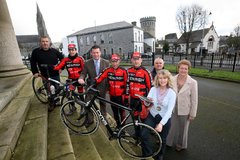 This team are an inspiration. They came to me last November looking for my support and of course it was forthcoming. Nenagh has always had a strong interest in cycling and the lads have been participating in cycling competitions in some cases for over a decade. It is a fantastic achievement to have our own team in Nenagh that will promote the town and the area in general. Nenagh has a unique selling point now with the N7 cycleway to Limerick that will be able to attract in events and competitions in the future. Working with the team and their supporters I want to make Nenagh, a town placed in the centre of the country as the centre piece of Irish cycling'.
Already we have a national one day race coming to the town on April 22nd that has been organised by the team. They are also looking at having the RÁS come into the town in 2013, which would see a major influx of visitors into Nenagh. Furthermore the N7 is seen as a great location for national cycling time trials as well as triatalons given its dedicated cycle lanes, size and topography. The business potential of the team for the town of Nenagh is immense and they'll be marketing the town of Nenagh and its surrounds all over Ireland and further afield.
I want everyone locally to support the team and their initiative beginning with their launch on Friday 24th in the Abbey Court Hotel. This is a really great initiative, good for Nenagh, good for North Tipperary and shows what can be achieved when people work together and I look forward to the success both of the team and the numerous cycling events coming to Nenagh.
Permanent link | Categories: Arts Sport & Tourism • Transport