National Gas for Nenagh is Imminent
Posted by Alan Kelly on December 05, 2012 at 11:20 AM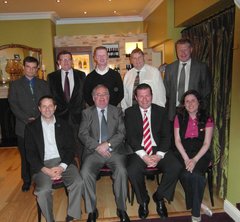 Today I have announced that Nenagh is within touching distance of becoming connected to the Natural Gas Network.
I have been working on bringing gas to Nenagh since I first became a Minister in this Government in March last year. It was my number one project for the town as I know how important it is for its future. Gas provision would create a huge competitive advantage for Nenagh. Energy consumption and the cost of oil and other energy sources are now one of the largest, if not the largest cost concerns for businesses and employers in Nenagh. Oil has become hugely expensive and its price is constantly fluctuating. Getting gas into Nenagh will protect jobs, create many more and bring inward investment. It is estimated that natural gas will save Nenagh business and public buildings/schools in the range of €20 million in energy costs in the first five years.
Nenagh is a great town. It has a well educated, ready made work force. It is centrally located, near Limerick and Shannon and located just off the M7 motorway. It is a great place to live with its proximity to the lake and all its related activities. The one major piece of infrastructure that it was missing was a cheaper and more consistent source of energy. In Ireland that is natural gas. Towns that have natural gas have a competitive advantage for their business and can attract inward investment. Clonmel is a prime example of this. It has grown enormously with the provision of gas with huge inward investment in the pharmaceutical industry in particular.  Gas will be important not just for businesses in Nenagh but also for domestic consumers who will have a chance to connect following on from the major businesses and save significantly on energy bills.
Getting gas into Nenagh has been the singular most important project I have been working on for the town of Nenagh since I became a Minister in March last year. Initially I had a number of meetings with Minister for Energy Pat Rabbitte and his officials. I then held a number of meetings with Arrabawn Co-op and its Chief Executive Conor Ryan, who have a key requirement for Gas in order to grow and expand in Nenagh. He has been very supportive throughout. Following on from that I met with Gaslink who are responsible for selecting and connecting new towns to the Gas network. They are an independent subsidiary of Bord Gais, who I have also spoken with on numerous occasions. I then had extensive discussions with County Council Manager Joe McGrath who has been centrally involved inthe process from the beginning along with Nenagh Town Manager Marcus O'Connor and their staff.
I set up Nenagh's Gas Committee to drive the project forward. It is made up of almost all major industries in the town along with myself and Council Officials. The Committee has met on a number of occasions. The Committee met with Minister for Energy Pat Rabbitte in Nenagh in July last to impress upon him the need to get gas to Nenagh. I speak to Minister Rabbitte regularly regarding the project. Then Mayor Cllr Virginia O'Dowd and current Mayor Cllr Lalor McGee have also spoken with Minister Rabbitte on the project to help push it forward.
The discussions with Gaslink with regards to the project primarily relate to its financial viability. I am confident that the project is now viable and that the CER will see it as such. I expect the project to be submitted to the CER very soon.
The plan for the pipeline involves an upgrade of the current East Limerick pipeline that runs to Birdhill and serves Ballina and Killaloe. The pipeline will then be extended to Nenagh with the proposal to run it along the old N7 route. The pipeline will be comprehensive covering every artery in and out of the town and every street in the town. Nenagh will be the first town in North Tipperary to get gas if it's successful. It will by doing so increase the potential and future viability of getting gas to other North Tipperary towns such as Roscrea and Thurles.
I am now asking the people of Nenagh and surrounds and particularly all businesses to support this project as it will be the largest infrastructural development and investment in the town for many, many decades. A number of current and former public representatives who represented the North Tipperary tried to get gas to Nenagh before. It never happened. It's now imminent. I'm asking the people of the town and surrounds for their support now.
The members of the Nenagh Gas Committee are myself, Joe McGrath County Manager North Tipperary County Council, Marcus O'Connor Director of Services North Tipperary County Council, Conor Ryan Arrabawn Co-op, Don O'Brien ABP Ireland,Donncha Haverty HKPB Scientific, John Conroy Proctor & Gamble, Matt Muller Abbey Court Hotel, Clodagh Kavanagh Abbey Machinery.
Permanent link | Categories: