Official Opening of the 'Who to Talk to' Event
Posted by Alan Kelly on September 18, 2014 at 03:18 PM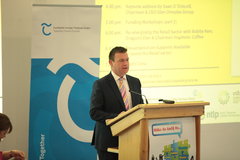 I was delighted to officially open the 'Who to Talk to' Event which was organised by Tipperary Local Enterprise Office and held in LIT Thurles. 
This event is an excellent example of collaboration and collective effort. Tipperary County Council in conjunction with Enterprise Ireland, the Education & Training Board, LIT, Local Development Companies, Teagasc and the Local Enterprise Office came together to repeat the successful 'Who To Talk To' initiative which is now in it's third year. 
The Who To Talk To event acts as a catalyst to individuals considering self employment and provide an opportunity for existing businesses to network and hear about supports and finance available.  There were over 42 information desks/stands at the event providing information and advice to those considering setting up a new business or expanding an existing business, as well as a funding workshop which featured a series of short presentations on supports from Enterprise Ireland, Bord Bia, InterTrade Ireland, Department of Social Protection, Fáilte Ireland, Microfinance, Tipperary County Council and the Local Enterprise Office.
I was delighted to meet so many entrepreneurs at the event.
Permanent link | Categories: