Official Opening of New School Extension at the Presentation Secondary School in Thurles
Posted by Alan Kelly on September 23, 2014 at 11:03 AM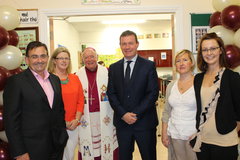 On Friday last, I officially opened the new school extension at the Presentation Secondary School in Thurles.
Last year, I was delighted to announce a huge investment for the Presentation Secondary School in Thurles. The school received in the region of €500,000 which allowed the school to build six new classrooms and four new resource rooms as well as other works. The school is one of the first two schools in the country to receive funding under phase 2 of the Governments School Building Capital Programme for extensions and renovations. The new extension of adds to the magnificent building.
I was delighted to work with the Board of Management Chairperson, Sr. Fidelis, Principal, Marie Collins and Vice Principal Mary B Lanigan Ryan on delivering this project for the school. The school has had a large increase in the number students in recent years and the new classrooms will cater for the demand for places in the school.
Permanent link | Categories: