Archive for 2015
Posted on July 28, 2015 by Alan Kelly
I have announced major reforms to the Building Regulations that will slash costs and reduce red tape for people who want to self-build their homes.
Under the reforms, people building single dwellings or extensions will be given the choice of opting out of statutory certification and may instead show by alternative means that they have met their general obligation to build in accordance with the minimum requirements of the building regulations. Additional guidance, including a... Sample Preliminary Inspection Plan, will be published to assist with this process.
Permanent link | Categories:
Posted on July 23, 2015 by Alan Kelly
Tipperary County Council is set for another housing boost following a further allocation  from my Department.
I have allocated €3.6million to Tipperary for the acquisition and purchase of homes for people with specific housing needs – the elderly, disabled persons and homeless persons.
The news is on top of the €57 million already announced by Minister Kelly last April for Tipperary County Council. This new funding now brings the total housing spend in Tipperary to 2017 to over €60 million.
The new funding will see 27 new housing units put in place in Tipperary. Seven of these will be acquired this year by voluntary housing bodies, Focus, Simon and Camphill Communities.
Permanent link | Categories:
Posted on June 10, 2015 by Alan Kelly
 I am delighted to confirm that a total of €2,939,731 had been allocated to Tipperary.
Energy Communities Tipperary Cooperative Ltd received €1,433,661. This project is a collaboration of eight communities within Tipperary coming together as a community run co-operative to carry out deep retrofits on 200 homes (Drombane, Kilcommmon, Lorha, Birdhill, Borrisokane, Loughmore, Cloughjordan, Riverstown and Carrig) and 2 community buildings. Measures include roof insulation, cavity and external wall insulation, full window replacement, high efficiency boilers with integrated controls, solar water heating installation, solid fuel room heater, electricity energy monitor, efficient lighting and chimney draught limiter. The key aim of the project is to increase user comfort, reduce energy usage within homes and communities, and to generate local employment.
Permanent link | Categories:
Posted on June 09, 2015 by Alan Kelly
The Labour Party Tipperary are holding a Rural Affairs Evening in the Clonmel Park Hotel, tomorrow Thursday June 11th at 7.30pm. The night will focus on the developments that have been made in Rural Ireland over the past few years and also the aims for the future.
Marie Sherlock, who drawing up the Labour Party Manifesto for the next general election will be present on the night. All in attendance will be given the opportunity to s...hare their ideas and Marie will be collating the ideas, which will all be considered in the writing up of the manifesto.
Speaking on the night will be Minister for Rural Affairs Ann Phelan TD, Senator Denis Landy and myself.
Permanent link | Categories:
Posted on June 09, 2015 by Alan Kelly
I urge eligible groups in Tipperary to apply for a new €1 million funding scheme that has been announced for Home Carers.
The Tánaiste and Social Protection Minister Joan Burton announced her Department was providing the €1m support and training fund. The money, which will come from the Dormant Accounts Fund, was confirmed in conjunction with National Carers' Week.
I welcome this new scheme which will help fund schemes which provide training, information and related support... services for Home Carers.
Permanent link | Categories:
Posted on June 08, 2015 by Alan Kelly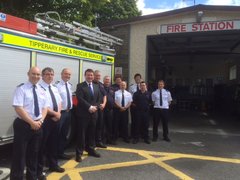 This morning I announced funding for a long awaited new fire station in Templemore.
I have a huge affinity with the fire service so I was delighted to visit the fire service team in Templemore today to announce funding for a new fire station. They have waited way too long for this announcement. The current fire station was built in the 1960s and they desperately needed a new one which I'm delighted will go to tender now.
Permanent link | Categories:
Posted on June 05, 2015 by Alan Kelly
I welcome the announcement that eircom plans to deliver high-speed broadband access to an additional 300,000 addresses. Tipperary is to have access to speeds of up to 1Gb/s 'end to end' fibre to the home (FTTH) technology in 21 new locations as a result of this major regional investment by eircom.
The areas included under this new plan are Aherlow, Ballymackey, Ballingarry, Boherlahan, Ballyporeen, Coolbawn, Carrig, Cloughjordan, Golden, Goolds Cross, Gortnagowna, Moyne, Mullennaglough, Puckane, Portroe, Rosegreen, Rossoulty, Silvermines, Templederry, Toomevara and Templetouhy.
Permanent link | Categories: