Nenagh Castle
Posted by Alan Kelly on September 13, 2017 at 09:26 AM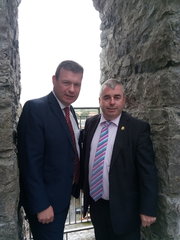 I have been raising the issue of the funding required to carry out phase two works on Nenagh Castle with the Minister for Public Works for months now.

After his visit last week, I have subsequently been in touch with him and I am confident that the Minister will provide funding to commence the works that have been planned for many years now.

Nenagh Castle looks fantastic and has had record numbers of visitors over the last year. We need to continue this and developing the original entrance to the castle, completing more renovation works and looking at an interpretive centre would really enhance the visitor experience of this fabulous attraction. I'm confident that Minister Moran will help us with this and that funding will be provided in the coming months.
Permanent link | Categories: