Blog Categories
Entries matching the category "cahir"
Posted on March 11, 2009 by Alan Kelly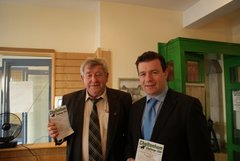 Yesterday I was campaigning in South Tipperary with Seanie Lonergan, who is our local Councillor in Cahir. Seanie is an excellent worker and effectively knows everyone in the area. I have evey confidence that he will get re-elected.
The response in the area was brillant. I know quite a few people around there and made many friends in college from that area. Many people knew me also from listening to me on Tipp FM and also Tipp Mid West radio.
Permanent link | Categories: Community Rural & Gaeltacht Affairs • Tipperary • Seanie Lonergan • Cahir • South Tipp