Blog Categories
Entries matching the category "charity%20hurling"
Posted on March 21, 2012 by Alan Kelly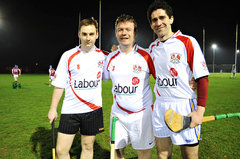 I had a brilliant night at the inaugural Labour/Fine Gael Charity hurling challenge which took place in Dublin last week. The match was played under flood lights late on Tuesday night, March 13th and I was the only member of the Government to line out on the night. Labour comprehensively beat Fine Gael by 6-8 to 1-2. I did Portroe proud playing at full back where I was joined by joined on the Labour team by Cappawhite's Jim McGrath and Kiladangan's Ger Slattery. It was great fun and raised some funds for the Merrymount Hospice in Cork.
Permanent link | Categories: alan kelly • charity hurling •