Blog Categories
Entries matching the category "cit"
Posted on March 31, 2009 by Alan Kelly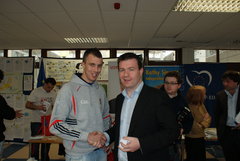 Was in CIT today where all the European candidates were invited by the Political Society to come and visit the students. It was an interesting day, listening to the the students, who have real concerns about their future(s). There is a serious issue with job placement in many courses and the level of this was startling.
I was delighted to be brought around CIT by their Sigerson Cup winning captain, Paul O'Flynn, a sound man. I also got to spend a good bit of time with Gearoid Buckley, who is the student president in CIT. My party colleague and lecturer in the college, Brendan Ryan also lent his support.
We had a good turnout with the usual support from all the lads in Cork, Keith, Mark etc.
Permanent link | Categories: Education • CIT • GAA • Students