Blog Categories
Entries matching the category "common%20agriculture%20policy"
Posted on April 19, 2010 by Alan Kelly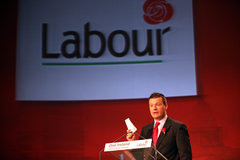 I took the opportunity during the Labour Party National Conference at NUI Galway, to highlight the grave situation facing farmers if the future of the Common Agriculture Policy (CAP) is not addressed now.
The clock is counting down towards 2013, and with every minute that passes, the situation for Irish farmers becomes more critical.
Agriculture is at the very core of rural life in Ireland and CAP 2013 is critical to ensuring future generations of farmers do not turn their backs on the industry.
We must encourage young farmers to get involved and provide them with a viable career path in farming.
Permanent link | Categories: Agriculture • Alan Kelly MEP • Labour • North Tipperary • CAP 2013 • Common Agriculture Policy • Ireland • farming