Blog Categories
Entries matching the category "gerry%20mcloughlin"
Posted on April 28, 2009 by Alan Kelly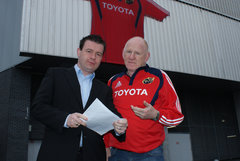 Just to get something off my chest. It is incredibly unfair to see the extent to which rugby fans are being ripped off by airline companies ahead of the Heineken Cup final in Edinburgh.
One of Munster and Leinster (The Southern Province hopefully) will be playing yet it will cost you €560 odd euro to fly from Dublin to Edinburgh return over Saturday on Sunday whereas on the Monday when there is no game on, it costs a mere €30.
Permanent link | Categories: Arts Sport & Tourism • Consumer Affairs • Munster • rugby • Limerick • gerry mcloughlin • alan kelly • heineken cup
Posted on April 03, 2009 by Alan Kelly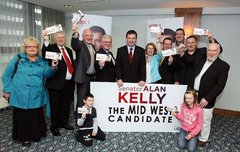 Today we formally launched my campaign in Limerick and I was delighted to have my party leader Emaon Gilmore there. It was also attended by Jan O'Sullivan TD, as well as a host of Cllrs and local candidates. I was delighted also to have a number of the Kemmy family present as well to show their support.
Permanent link | Categories: Arts Sport & Tourism • Education • Enterprise Trade & Employment • Health • Limerick • Joe Kemmy • Jan O Sullivan • Joe Leddin • Thomas Hannon • Mid West. Limerick • North Tipp • North Kerry • Joe Kemmy • Jim Kemmy • Tom Shortt • Ginger McLoughlin