Blog Categories
Entries matching the category "glanmire"
Posted on March 21, 2009 by Alan Kelly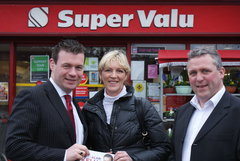 Canvassing with Cllr John Gilroy in Glanmire was a pleasure. he is a great local Cllr and rarely have I seen someone to be so popular as John is. He is also someone who has worked extremely hard over the last five years on arange of issues, from health to education cutbacks to planning and environmental issues.
John is also someone who has been very helpful to me over the last few years, with various pieces of advice from time to time, especially when I said I was lookinf for the nomination. John is someone who always gets the job done!
Permanent link | Categories: North Central • Glanmire • John Gilroy