Blog Categories
Entries matching the category "gpa"
Posted on December 06, 2009 by Alan Kelly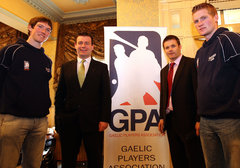 I welcome this week's development of the GPA/GAA's interim agreement. After two months of deliberations both the Gaelic Players Associations and the GAA have reached a compromise which may give way to an alliance. This agreement can protect the GAA's amateur status while also providing recognition to the GPA as a body which can protect and promote the interests of the players. This is something that I have supported as a member of both organisations for some time.
Permanent link | Categories: Arts Sport & Tourism • GAA • GPA
Posted on April 01, 2009 by Alan Kelly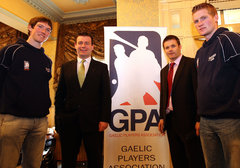 Today I was at the launch of the GPAs campaign to maintain the grants that inter county players get as a contribution to the expenses they incur during the year. I was the first member of the Oireachtas to actually join the GPA and as far as I know I remain the only national politician who is a member of the organisation. I am a huge fan of GAA players and the commitment they give to their games. They offer a huge enhancement to cultural life in Ireland and they are great role models as well.
Permanent link | Categories: Arts Sport & Tourism • GPA • GAA • Tipperary • Limerick