Blog Categories
Entries matching the category "james%20heffernan"
Posted on May 04, 2009 by Alan Kelly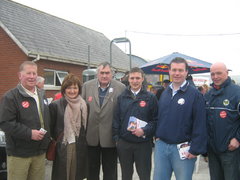 Another day, another two counties knocked out on the canvassing trail. The Fair in Kilmallock was busy today as was I and James Heffernan – a fantastic local election candidate. Every Labour candidate across the country now is full of energy, buoyed on by the amazing response on the doorstep and the natural momentum we have gained over the past year. The Labour team is hungry for success and James will deliver I have no doubt. He comes from a strong hurling family and he possesses the same hunger for success that has made the Heffernan name famous.
Permanent link | Categories: Arts Sport & Tourism • kilmallock • alan kelly • james heffernan • limerick • kilfinnane • stephen goulding • newcastlewest • abbeyfeale • athea
Posted on February 13, 2009 by Alan Kelly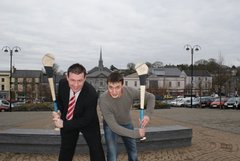 I was campaigning all over South Tipp and Limerick recently. I got a great reaction in my home county and I had time to meet up with many friends. Tipperary is a very proud county and I'm certainly gettting a very good response throughout. Many people want to see someone from Tipp. I'd be the second person to represent the county in Europe if I was elected, TJ Maher was the first. South Tipp has great local Labour County Cllrs in Seanie Lonergan in Cahir, Darren Ryan and Gabrielle Egan as well as Denis Landy in Carrick on Suir. We also have Mark Hogan and Billy Bourke in Clonmel as well as Maureen O'Donoghue in Cahir and Jim Drohan in Carrick. Finally, of course there is my colleague in the Seanad Senator Phil Prendergast. Tipp SOuth is very important to the Labour party because it is where the party was founded in CLonmel in 1912 and we've had great representatives there in Michael Ferris, Sean Treacy, Richard Stapleton and William O'Brien.
Permanent link | Categories: James Heffernan • Limerick • South TIpp
Posted on March 14, 2009 by Alan Kelly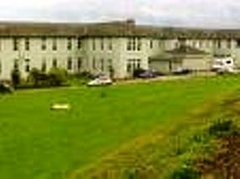 On Thursday I was in Mallow and was greated by the Mayor of the town, James Kennedy. James is a sound fella and was really helpful to me. I even got the official Mallow tie pin! We canvassed the town with some of the local members and the reception was good. Mallow is a very strong Labour town, given the Sherlock tradition. It slso has many great local activists and Cllr. Jerry Mullally has always been very helpful to me.
Permanent link | Categories: Health • Health • Mallow • Nenagh • Hospital • Sean Sherlock • Jerry Mulally • James Kennedy