Blog Categories
Entries matching the category "nessa%20childers"
Posted on April 23, 2009 by Alan Kelly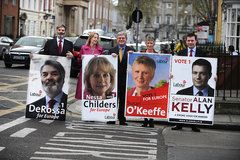 Today saw the launch of the Labour party's European campaign. I was delighted to join my fellow candidates, Prionsias De Rossa MEP, Nessa Childers and Susan O'Keefe in representing our party. We are a very strong team and united in our purpose of winning four seats.
Permanent link | Categories: Europe • Alan kelly • nessa childers • prionsias de ross • susan o'keefe • eamon gilmore • Jobs