Blog Categories
Entries matching the category "seamus%20hogan"
Posted on April 09, 2009 by Alan Kelly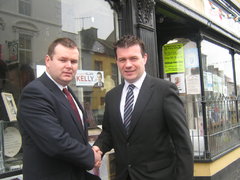 Today I was canvassing in West Limerick and I visited Adare, Rathkeale, Newcastlewest, Abbeyfeale and Listowel. It was a hectic but productive day. Today re-iterated to me again the quality of candidates that we have standing in the local elections for the Labour party across Munster.
Permanent link | Categories: Stephen goulding • seamus hogan • pat leahy • tom hannon • Adare • limerick west • rathkeale • newcastlewest • abbeyfeale • listowel • Kerry • alan kelly
Posted on March 01, 2009 by Alan Kelly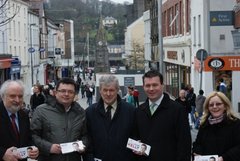 I spent last Saturday in Waterford on the campaign trail. I was joined by my colleagues Brian O'Shea T.D, Mayor Jack Walsh and Cllr. Seamus Ryan. We campaigned throughout Waterford again and and got a great reception.
The Cllrs in Waterford are excellent and very popular as is Brian O'Shea, who has been a fantastic servant to the people of Waterford. I have the height of admiration for him.
Permanent link | Categories: Education • Enterprise Trade & Employment • Health • Brian OShean • Seamus Ryan • Jack Walsh • Waterford • WIT • Health