Blog Categories
Entries matching the category "south%20kerry"
Posted on February 06, 2009 by Alan Kelly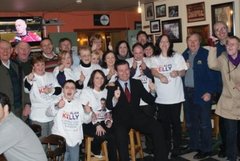 I had my South Kerry campaign launch in Sheehan's pub in Killorglin on Friday, Feb 6th. It was a great night that began with the selection convention for the local area that put forward John Sheehan as the local Labour party candidate. We then launched my campaign in Sheehan's with some old friends of mine from Fexco and Gulliver, who I used to work with in Killorglin. Also present were the local Labour party members and the 'extended' family of my in laws. We certainly made an impression. Killorglin is one of my favourite towns in Ireland and I always enjoy being out and about there.
Permanent link | Categories: South Kerry • Killorglin