Blog Categories
Entries matching the category "teamwork"
Posted on December 20, 2008 by Alan Kelly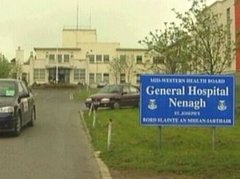 Nenagh Hospital as we know it is under threat.
The fact is that the HSE have over a year ago completed the infamous 'Teamwork' Report into acute services in the Mid West and they are still refusing to publish it. This beggars belief. They are refusing to publish a report that will decide the very future of how our hospitals work, yet they have put in place 'reconfiguration' teams to implement the recommendations of this as yet unpublished report.
There is no transparency in this and it is simply an exercise to stifle debate and push through Mary Harney and Brendan Drumm's ideologically driven policies and beliefs. This is certainly undemocratic and shows an attitude towards the public that leaves a lot to be desired.
Permanent link | Categories: Health • nenagh hospital • teamwork • Health