Blog Categories
Entries matching the category "tipperary%20gaa"
Posted on September 12, 2010 by Alan Kelly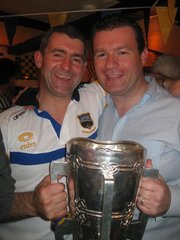 To say I'm a happy Tipperary man after our All Ireland hurling final win would be an understatement in the extreme. I'm absolutely thrilled, for the players, for the management, for Liam Sheedy and all the backroom staff. It was an unbelievable performance where there was no dispute as to who were the better team.
I was quietly confident going into the game that we would do it and despite Kilkenny clawing back to just within a point at half time, I still believed we'd do it. The performance of all the players was at 100% and when Tipp are in that form, with such a young team as well, they are unstoppable. They were so determined to wipe out the memories of last year.
Permanent link | Categories: Arts Sport & Tourism • Liam Sheedy • Tipperary • GAA • Portroe