Blog Categories
Entries matching the category "tom%20shortt"
Posted on April 03, 2009 by Alan Kelly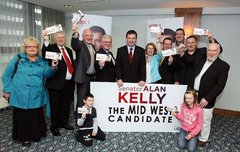 Today we formally launched my campaign in Limerick and I was delighted to have my party leader Emaon Gilmore there. It was also attended by Jan O'Sullivan TD, as well as a host of Cllrs and local candidates. I was delighted also to have a number of the Kemmy family present as well to show their support.
Permanent link | Categories: Arts Sport & Tourism • Education • Enterprise Trade & Employment • Health • Limerick • Joe Kemmy • Jan O Sullivan • Joe Leddin • Thomas Hannon • Mid West. Limerick • North Tipp • North Kerry • Joe Kemmy • Jim Kemmy • Tom Shortt • Ginger McLoughlin
Posted on April 09, 2009 by Alan Kelly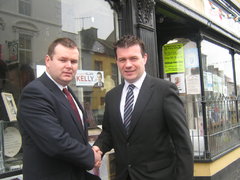 Today I was canvassing in West Limerick and I visited Adare, Rathkeale, Newcastlewest, Abbeyfeale and Listowel. It was a hectic but productive day. Today re-iterated to me again the quality of candidates that we have standing in the local elections for the Labour party across Munster.
Permanent link | Categories: Stephen goulding • seamus hogan • pat leahy • tom hannon • Adare • limerick west • rathkeale • newcastlewest • abbeyfeale • listowel • Kerry • alan kelly
Posted on March 07, 2009 by Alan Kelly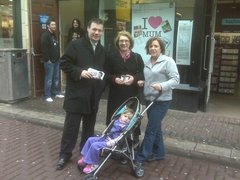 I was out again in Limerick with Jan O'Sullivan, Cllr. Tom Hannon and Cllr. Joe Leddin as well as a number of their colleagues. As the only Mid West candidate, I feel a real sense that the people of the area want to have someone from their end of the constituency representing them in Brussels. It is coming across in spades!
Permanent link | Categories: Limerick • Jan OSullivan • Mid West • Tom Hannon • Joe Leddin