Blog Categories
Entries matching the category "transport"
Posted on March 05, 2012 by Alan Kelly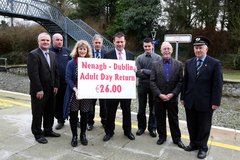 I have recently announced an overhaul of rail services on the Ballybrophy railway line, including additional early morning train services to Dublin under the new Iarnród Éireann Spring/Summer schedule. This is a fantastic development for those living and commuting in the areas of Nenagh and Roscrea. As the local Minister in the Department of Transport, providing this vital service has been a priority for me.
These new trains mean you'll be in Dublin in 2 hours 20 minutes from Nenagh and there will be no change at Ballybrophy on this service. What this effectively means is that for the first time people from Nenagh have the ability to get to Dublin, on one train, for work or college before 9am.
Permanent link | Categories: Transport