Blog Categories
Entries matching the category "ucc"
Posted on February 10, 2010 by Alan Kelly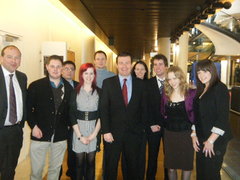 This week I had a visit from a group of Law students from across Irish Universities, but in particular UCC and what a lively bunch they were in Strasbourg! The certanly knew how to make the most out of the trip and enjoy themselves while also learning and asking many, many questions. I was delighted to have them there. In particular, it was great to have Declan Walsh, Lecturer in EU Law in UCC accompanying them. Declan has been a friend of mine for many years since my time in Cork and is a great authority on all matters in relation to Europe.
Permanent link | Categories: Education • UCC