Archive for August 2017
Posted on August 29, 2017 by Alan Kelly
The report that Irish Rail are looking at closing four railway lines, two of them going through Tipperary is nothing new. This has been mooted for many years and something I have fought against.

Tearing up infrastructure that is critical to Tipperary is not acceptable. Across the world Government's are looking at getting goods and the travelling public off roads and on to rail and here we are looking at closing more railway lines.

Have we not learnt any lessons from the closure of so many lines in the last century that would be so valuable now.

Furthermore, how could the Government support such a proposal given it flies in the face of Government policy across a range of areas. This would be contrary to the Regional Action Plans for Jobs, the Government's Action Plan for Rural Ireland and indeed commitments the Government have in relation to climate change.

What needs to happen is proper investment in both the Ballybrophy and Limerick-Waterford lines. The lines are too slow, have too many crossings and do not have attractive services, with very little offering to commute to Dublin. Many of the services aren't even available online.

I am asking the people of Tipperary to fight against these proposals. Having rail lines are very important for inward investment opportunities so how could this Government say they have any interest in Tipperary if they allow this to go ahead.

Minister Ross and this Government needs to get the message that the closure of services at 9 train stations in Tipperary will not be tolerated. I won't accept it and I don't believe the people of Tipperary will either.
Permanent link | Categories:
Posted on August 08, 2017 by Alan Kelly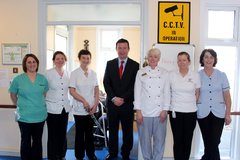 I'm absolutely delighted that this state of the art 50 bed facility which I announced €9 million funding for while a Government Minister in January last year will be built beside Nenagh Hospital. > > The HSE have just secured a 3.5 acre site beside the hospital. I want to thank them for their tireless work and perseverance in delivering this site. > > This new facility will not just double the bed capacity of St. Conlon's but will also provide a range of other services including badly needed respite and rehabilitation beds and facilities. > > It is absolutely necessary that this purpose built facility advances over the coming years in order to meet HIQA requirements.
Permanent link | Categories:
Posted on August 08, 2017 by Alan Kelly
I welcome the news that work on the Courthouse in Nenagh will get underway to expand the services.  
Deputy Kelly said "I am delighted that work will take place on the Courthouse in Nenagh.  The works will see the provision of a full time office for the Circuit Court. The contract has been awarded to Roscrea building firm, Frank Murray Builders.  The works will start this month and are due to be completed in September.
"This is good news for the area, as prior to this Circuit Court business was carried out through the Courthouse in Clonmel or Limerick
Permanent link | Categories: