On the Canvass Trail in Newcastlewest
Posted by Alan Kelly on February 17, 2009 at 10:26 PM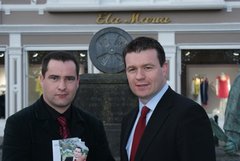 I was out canvassing recently with our local election candidate in Newcastlewest, Stephen Goulding.
I go out canvassing with many local election candidates all the time, but this was different. Newcastlewest is an area that to date we have not been strong in, but the reaction towards us was absolutely fantastic.
Stephen is an exceptional candidate.
He is a teacher by profession. HE has so much energy and enthusiasm for canvassing, that it is quite infectious.
I have no doubt that he will be successful in June and he certainly has a good team behind him.
The fact that the party is doing so well in ares like this is an indication of how the public is taking to the Labour party's message and the work of our leader Eamon Gilmore.
The party is in a very good position in Munster at the moment and with candidates like Stephen Goulding we are certainly heading towards success in June.
Permanent link | Categories: Newcastlewest • Limerick • Stephen Goulding