The Fight For Mallow Hospital
Posted by Alan Kelly on March 14, 2009 at 11:14 PM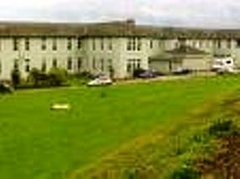 On Thursday I was in Mallow and was greated by the Mayor of the town, James Kennedy. James is a sound fella and was really helpful to me. I even got the official Mallow tie pin! We canvassed the town with some of the local members and the reception was good. Mallow is a very strong Labour town, given the Sherlock tradition. It slso has many great local activists and Cllr. Jerry Mullally has always been very helpful to me.
On Thursday night I attended the campaign meeting of the Joint Mallow Hospital ACtion Group and Friends of Mallow Hospital. Local doctors and consultants were also present and supportive. It was a meeting that had a huge sense of deja vu for me from out campaign in Nenagh and those of Ennis, Bantry, Monaghan etc.
At the meeting which was chaired by a good friend of mine, former general secretary of SIPTU, John McDonnell, I spoke about the need for everyone to stand behind the hospital. I also told those present of our experiences in Nenagh, but more so I spoke of the need for a unified campaign across local areas to fight the proposed HSE reconfiguration programme being promoted by Harney and FF.Is only by everyone working together and showing solidarity that we can fight these insane plans.
The HSEs perameters for all their reconfiguration reports into acute hospitals are flawed. Their research doesn't stand up to scrutiny. Local people deserve local services, 24 hour A&E, Intensive care and basic surgery. Simple as that!
Permanent link | Categories: Health • Health • Mallow • Nenagh • Hospital • Sean Sherlock • Jerry Mulally • James Kennedy