Canvassing in West Limerick/Listowel
Posted by Alan Kelly on April 09, 2009 at 10:18 AM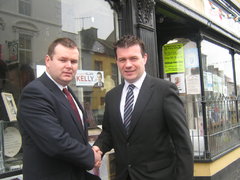 Today I was canvassing in West Limerick and I visited Adare, Rathkeale, Newcastlewest, Abbeyfeale and Listowel. It was a hectic but productive day. Today re-iterated to me again the quality of candidates that we have standing in the local elections for the Labour party across Munster.
I met Thomas Hannon in Adare, who is our sitting Councillor in that area. Tom is a long time member of the party and has been a good friend of mine for many years. He is an excellent Councillor and very hard working and I'm sure he will be successful in June. From there I went on to Rathkeale where Seamus Hogan is our candidate. Seamus runs a shop in Rathkeale and is extremely popular in the town. He's working very hard in the constituency and I have every confidence from what I experienced today on the doorsteps that he will be elected.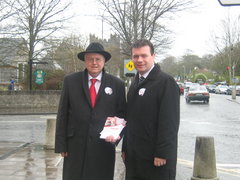 Newcastlewest and Abbeyfeale are both in Stephen Goulding's constituency and I have to say that Stephen is one of the best canvasser's I have ever been with. He has been on the road for many months and is very well received. His popularity came acrosss in the manner in which people kept approaching us saying that Stephen has been with them already and has been able to help them. Imagine what he'll do when he is elected to the Council.
I also visited Castleisland and Listowel where I canvassed with Councillor Pat Leahy. Pat comes from a very similar background to my own and has been a brillant Councillor in that area. I met so many people in Listowel that knew me; it was very encouraging.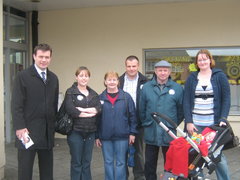 Permanent link | Categories: Stephen goulding • seamus hogan • pat leahy • tom hannon • Adare • limerick west • rathkeale • newcastlewest • abbeyfeale • listowel • Kerry • alan kelly