Can hurling be matched?
Posted by Alan Kelly on May 03, 2009 at 05:38 PM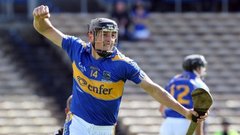 Tipp just lost a whirlwind of a match but who can complain? They were taking on one of the greatest sides that ever played hurling and matched them for pace, intensity and a willingness to die for the cause. That's all any fan can ask for.
It was refreshing to see any team stand up to Kilkenny. They are a pretty awesome lot but Patrick Maher did an amazing job marking Henry Shefflin and Brendan Cummins again popped up with a supreme save. Tipp also have a major star of the future in Noel McGrath so we can be optimistic about Liam Sheedy's charges this year. Hopefully the curse of being overwhelming favourites for Kilkenny can lead to some complacency within their ranks and Tipperary can be the ones who capitalise.
It was nice to see so many people I knew at the match and who wished me well on the campaign. The Alan Kelly jeeps were situated prominently outside the ground with the music going, it adds a bit of colour to the day overall. Back to the match, now we can truly say that summer has started when the sun shines in Thurles and two teams go toe to toe for each ball, each tackle and each score in what is in my opinion the greatest sport on earth. Even more, they do it for nothing but pride of the parish/county.
Permanent link | Categories: Arts Sport & Tourism