Bringing it All Back Home
Posted by Alan Kelly on May 28, 2009 at 06:28 PM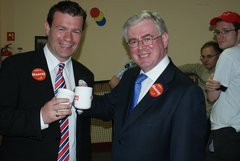 It was amazing to round off a party leader's tour with a trip to my own home village of Portroe. For those who don't know, it represents the heart of the Labour party in North Tipperary and the village itself and the people I grew up with helped form my own political philosophy.
It goes back to the days when the slate quarry was the main employer locally, back over seventy years ago. The local Labour party formed around the unions of workers employed in the factory and that togetherness has held firm in the community ever since.
Anyway ever since then ballot boxes in Portroe have tended to be overwhelmingly Labour, 70% or so. I remain deeply proud of where I come from and the fact that I come from such a Labour heartland. To have brought Eamon Gilmore to this great village was truly an honour. All the locals came out in support and it would be the achievement of a lifetime to come back to Portroe and say I am the Labour MEP for Munster. We must plough on.
Permanent link | Categories: Community Rural & Gaeltacht Affairs