Match Day Cheer
Posted by Alan Kelly on May 31, 2009 at 11:06 PM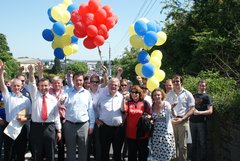 Thankfully Tipp came out on top of today's clash. After a powerful display in the first half the momentum was lost and Cork showed tremendous resolve to come back and were almost successful. They will have a say in where Liam McCarthy goes yet. You can be assured of that. Especially when their preparations were interrupted by the whole strike business.
Anyway the canvassing goes on. Eamon Gilmore along with Ciaran & Kathleen Lynch. We had the balloons, the music but it was nice to spend time on Liberty square meeting and greeting.
This campaign will be all over since and it has been enjoyable for the most part. Naturally these things take a toll on you personally but you just have to work hard and remember that every single vote counts.
Just to finish off I'd sincerely like to thank Liam Sheedy for the words of support on national television. If I can be half as successful in politics as he has been at hurling management, then we will be doing well.
Permanent link | Categories: Arts Sport & Tourism