Running Mates – Thanks to Éamonn Coghlan
Posted by Alan Kelly on June 01, 2009 at 11:21 PM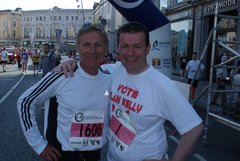 Managed to secure the number 1 jersey for the Cork City Marathon. Hope that is a good open for Election Day. Éamonn Coghlan came down for the marathon too. Wish I was as fit as he is but there you go, you can't realistically run an election and be an athlete.
Anyway it was nice to hear his kind words of support for the campaign. We need people with ambition to get things done and to hear Éamonn talk about his own background and how he got through his tough times is inspiring.
Pity he lives in Dublin and doesn't have the vote but there you go. You can't win them all. It is shaping up to be a very close contest. June 5th always felt like a date that is a long way off but it will arrive upon us before we know it. Roll on polling day.
Permanent link | Categories: Arts Sport & Tourism