Visiting the White House and New York
Posted by Alan Kelly on December 10, 2009 at 09:25 PM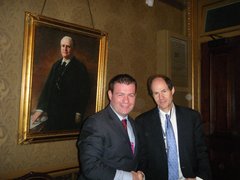 I was on my first trip as an MEP representative to the US over the last couple of days. It was a very interesting and informative few days, where I visited the While House and met with members of the US House of Representatives. We visited both Washington and New York. I met with Cass Sunstein who is I understand quite close to President Obama and is over Information and Regulatory Affairs in the Us Administration. I also met with Susan Rice, who is the US Ambassador to the United Nations.
The agenda was packed with foreign affairs topping the agenda at several points. Also we discussed the financial crisis, communications and environmental matters, with Copenhagen looming large.The debates with the representatives of the House of Congress were often very detailed and I was very encouraged by the level of detail of all the speakers. It was encouraging to hear the work that is being done on renewable energy and other economic growth areas.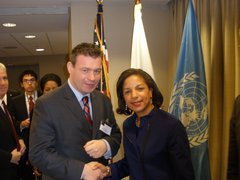 (With Susan Rice, US Ambassador to the United Nations)
It was a good opportunity for me to work closely with other MEPs as well and the trip showed that we have an awful lot in common. In New York we discussed a number of ways in which the transatlantic council, which has representatives from both the US and EU can be improved.
While in both Washington and New York I also spoke passionately about the plight of the undocumented Irish in the US. This is something I am very passionate about.  All in all a great trip.
Permanent link | Categories: Finance • Foreign & European Affairs • US • Alan Kelly