Crisis or Opportunity? - CAP Conference 2010
Posted by Alan Kelly on March 12, 2010 at 12:38 PM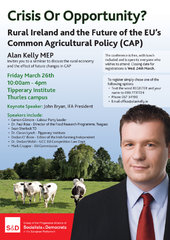 I am hosting a conference entitled "Crisis or Opportunity? The future of the Common Agricultural Policy and the Rural Economy".  It will take place on Friday, March 26th at 10.00am in the Tipperary Institute's Thurles Campus situated on the Nenagh road.
Labour Leader Eamon Gilmore will address the conference, along with the Labour Party Spokesperson on Agriculture and Food, 
Sean Sherlock TD, IFA President John Bryan, ICMSA Vice President Eddie O'Callaghan, Dr Cathal O'Donoghue, Head of the Rural Economy Research Centre at
Teagasc, MEP's and Representatives from the EU Commission.
The panel of experts from Europe and Ireland will discuss the future of the CAP and its implications for Ireland.
It is the aim of the conference to bring all stakeholders together to identify a common strategy in the renegotiation of CAP and the Single Farm Payment.  The conference will allow for full interaction between all the stakeholders to give their input on the future of CAP.
The conference is open to all to attend and is free of charge. To come along on the day you can register by one of the following methods.
- Text the word REGISTER and your name to 086 7737724
- Phone  067 34190
- Email office@alankelly.ie
- or alternatively visit us at 1 Summerhill, Nenagh, Tipperary.
I am delighted to be able to bring a conference of this calibre to Thurles and I look forward to seeing you all there on March 26th.
Permanent link | Categories: Agriculture