GOVT PLANNING ON EU DELL FUND PROVEN TO BE SHAMBOLIC
Posted by Alan Kelly on June 08, 2010 at 11:15 AM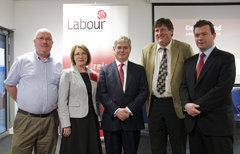 Following a series of meetings in Limerick on Friday June 4th, I am calling on the European Parliament's employment committee to appoint someone to liaise with the government over the handling of the EGF fund.
The government's planning on the EU Dell fund is now proving to be shambolic. 

Having met with MEP's from the EU's employment Committee, the Dell workers gave them a very clear picture of the botched job the government are making of this once-off fund. 

For the workers involved this should be a brilliant one-off opportunity to receive a hand-up as opposed to a hand-out. 

However it is only due to the desperate job that the government are doing that the fund is not being used. 

As honorary president of the Dell Workers Association, I will be asking the MEPs from the European Parliament's employment committee to take an active role at assessing how the Irish government are managing the situation. 

It is very clear that once the money has been approved in Europe, it is up to the Irish government to see that it is spent properly. 

However it is the state agencies with their rules and regulations that are slowing this process up and we may run out of time. 

They are not being allowed to take a positive approach to this money. 

They are drowning workers in unnecessary red-tape and undermining workers faith in the whole project,

Only a tiny amount of the money has been spent and there is less than a year to run on the fund. 

I have asked the MEPs on employment committee to appoint someone to mediate with the Irish authorities to examine the situation on an ongoing basis. 

I would be willing to take on this role myself. 

The Committee should use its democratic mandate to pressurise the Irish government into doing a better job for workers regarding this fund. 

I hope the Committee use the opportunity of visiting Limerick to help workers of the Mid-West. 

The Dell case could have serious ramifications for future Irish applications for the fund. 

It is clear that the MEPs are not happy with the progress of the fund to date.
Permanent link | Categories: Dell • Limerick • Alan Kelly MEP • European employment committee • Dell Redundant Workers • MEP • European Globalisation Fund • EGF