Elected TD For North Tipperary/South Offaly
Posted by Alan Kelly on February 27, 2011 at 08:54 PM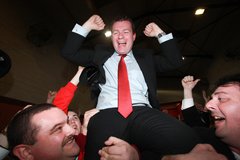 I am absolutely thrilled to have been elected as a TD for my constituency. It is a great honour to follow in the foot steps of John Ryan and Paddy Tierney. I want to thank all those that voted firstly and in particular to those 9,559 who gave me their first preference. It was a dream fulfilled for me to be elected a TD for this constituency, a dream I had since I was very young. I will do my very best to represent you and work hard for you over the coming years.
I want to thank all the workers who won the seat back for the Labour party. I was just the candidate for our great party. They did all the hard work and delivered on the ground. I will never be able to thank them enough. They are unbelieveable in their support and energy. That goes for my family as well, particularly Regina, Aoibhe, Declan and my parents who shaped me to be the person I am.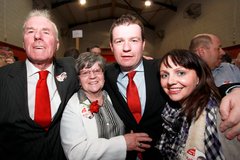 It has been an amazing few weeks on the campaign trail and I really enjoyed engaging with the public. Its going to be a hard few years for this country but we must pull through and I believe we can. We need a strong Government that can get the country moving again. It was a great result for the party nationally so I hope we will be part of that Government.
Permanent link | Categories: Alan Kelly