First Day in Dail Eireann
Posted by Alan Kelly on March 09, 2011 at 09:49 PM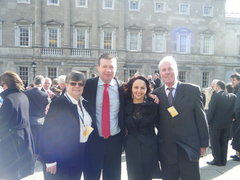 It was with great pride and emotion I entered the gates of Leinster House on my first day in Dail Eireann. I know the place well. I had been going in there during my days in Labour Youth, as someone who held various posts in the Labour party and as an ordinary member. I had also been in there as a Senator and MEP but there was definitely something differnt about being a TD.
It is such a great honour to be asked to represent your constituency and I really felt that. Being one of just 166 chosen people filled me with pride. It was simply a dream come through for me. I had refused to enter the Dail Chamber while I was a Senator (you are allowed sit at the back). I wanted to do it as a TD some day. Entering the chamber what I couldnt get over was the steepness of it. its much steeper than at first appears. Of course I wasnt alone, the turnover of TDs was incredible. Someone suggested name tags! Also there was a generational turnover which I welcomed.
The proceedings were great and congratulations to the new Taoiseach, Tanaiste and Cabinet. All very capable people. I look forward to supporting this Government in whatever way I can.
On a personal note it was a great day to be with my family, my wife Regia, brother Declan and in particular my parents. Also, the lads who work with me and my supporters, we've been through three parliaments now in a little over three and a half years. Today meant everything to me because they were with me and there were loads of them!!!! Long and great night ensued.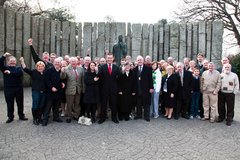 Permanent link | Categories: alan kelly td