One and a half million euro Investment for Clonmel and Thurles
Posted by Alan Kelly on April 08, 2014 at 01:03 PM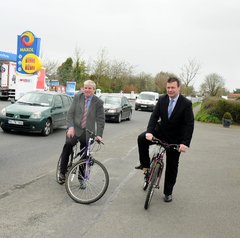 I am delighted to announce that the towns of Clonmel and Thurles are to benefit from more than €1.5 million investment in cycling infrastructure with news that each town is to be designated an Active Travel Town.   The initiative sees nine
...
Irish towns granted funding for local cycling and walking strategies, including new cycle-lanes, provision of walkways and behavioural change initiatives in local schools and workplaces to encourage people to switch their transport mode. The total national fund comes to €6.6 million.    The investment in Clonmel will see the construction of a new greenway within the town environs connecting the East and West sides of the town along the proposed 'Suir' Greenway at a cost of €500,000. There will be improved cycling connections all over the town and these will be connected to the current cycle track along the inner relief road. Cycling will also be made easier for children and students with improved cycle links to LIT's Clonmel Campus, linking up with the town's secondary schools. Over €1 million will be allocated to the investment in Clonmel.   The funding for Thurles will see the creation of cycle routes through the town from Brittas road, Kickham street/Boheravoroom Road, Parnell Street and Stradavoher Road/Clongour road to be linked with off-road footpaths cycle paths along the Suir paths at Thomond Road Suir Crossing, College Lane Suir Crossing, College Lane Suir Crossing and at Scoil Bhride Railway crossing. Thurles will receive €510,000 which will go as an allocation to North Tipperary County Council.   The 'Active Travel Towns' programme represents further investment in the National Cycle Policy Framework as set out under the Programme for Government.   It will have a hugely positive benefit on both towns making cycling safer particularly for children, allowing them to get to and from school easier.

This represents a major investment in both Clonmel and Thurles and is a welcome boost to both towns. In the first instance, jobs will be created during the construction of this infrastructure. Secondly, it will significantly improve cycling facilities for commuters and families alike. Cycling has a huge role to play in people's quality of life and I am delighted to be able to announce this funding for the Tipperary towns. For Clonmel in particular, having its own greenway in the town will be a huge boost and add significantly to the town's transport offering.

We are trying to create a more cycle-friendly and walking-friendly culture in Ireland. Infrastructure is one dimension, but you have to do more to get people to change their behaviour. Better infrastructure needs to be combined with education initiatives and that is exactly what we are doing with this programme.   We have moved away from just funding piece-meal projects to try and get a combined planned approach to walking and cycling and linking it to a town as a whole strategy. This will combine infrastructure improvements with behavioural change measures to encourage people to use the new infrastructure and to leave the car at home. There is huge scope for change and this needs to be driven locally.   The National Cycle Policy Framework outlines the importance of creating a culture of cycling in Ireland if cycling mode share is to increase. Securing effective increased bicycle and walking mode share requires a focus to be placed on population and employment centres.
Permanent link | Categories: