Funding for Borrisokane Community College
Posted by Alan Kelly on April 09, 2014 at 01:12 PM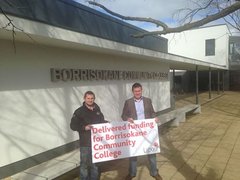 Following representations to Minister Ruairi Quinn TD from myself and local election candidate Greg Starr, I am delighted to announce that Borrisokane Community College has been granted funding to refurbish the old work house building which has fallen into disrepair. The funding also includes 4 new classrooms which will complete the building works in this new educational complex.

The workhouse which dates back to the 1800s had fallen into disrepair over the last few years.  As a result of recent storms the school authorities had to cordon off the area for safety reasons. This refurbishment will alleviate all the health and safety problems in the school and also supply the four new classrooms which are needed to fulfil the educational needs of the school.

Greg Starr and I met with the principal of the college Matthew Carr at the school, and I am delighted to have secured this funding on behalf of Matthew, the staff and students".
Permanent link | Categories: