Launch of Nenagh as an Active Travel Town after investment of one and a half million euro
Posted by Alan Kelly on April 14, 2014 at 01:55 PM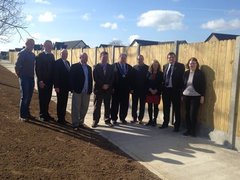 I  officially launched Nenagh as an Active Travel Town today and was delighted to open the new footpaths and cycleways in Nenagh town this morning. Funding from my department of circa €1.5m went in to delivering Nenagh as an Active Travel Town over the last three years. So much progress has been made in the Nenagh area and I hope that this programme and future programmes will bring many changes to the way we travel when we travel around the town and throughout the county.
The principal objective of Active Travel Towns is the delivery of increased cycling and walking mode share in urban areas, to make safe
and convenient alternatives to car travel available particularly in undertaking short journeys. We all have become a lot more conscious of the health benefits of physical activity and the importance of integrating physical activity into our daily routines so that it becomes the norm. Increased levels of cycling and walking in Nenagh will result in safer streets, healthier people and a friendly more relaxed community. I am very
impressed by what has been achieved to date and what is planned for the future.
In my role as Minister, I have been able to facilitate local enthusiasm for cycling and walking by allocating funding for various projects that improves the cycling and walking potential for Nenagh, which in turn allows families and children to cycle safely and is good
for people's health and quality of life.
Under the Active Travel Scheme, I have allocated €463,499, to the improvement of the town. This combines ideally with the €335,000 to
extend the N52 cycle way, linking with our local tourist trail, the €150,000 for the walking and cycle track to complete the looping walk
of Nenagh.   I also allocated €600,000 for the Limerick/Nenagh cycle way which makes use of the hard shoulder on the old road to Limerick.
Nenagh is becoming something of a cycling Mecca and it is no wonder that organisers of the Rás, have made a particular effort to complete
a stage of that race in Nenagh in recent years. The level of investment in Nenagh is well over €1.5 million.
Leisure and sports cycling has increased significantly in the Nenagh area in recent years and this has resulted in the designation of the town as a cycling hub for the Shannon Region. Nenagh is also on the National Cycle Network and some of the finest cycling trails in the
country are readily accessible from the town; the Nenagh to Limerick Cycle Route and the Lough Derg Cycle Route so the provision of good
in‐town cycle infrastructure is a great boost to the town's status as a major hub
Permanent link | Categories: