FRS Recruitment the Preferred Bidder to Deliver the Jobpath Programme
Posted by Alan Kelly on October 13, 2014 at 02:28 PM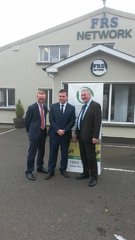 I am delighted to announce that a Tipperary company is among the preferred bidders to deliver the Government's Jobpath programme.

The company, FRS Recruitment, who are based in Roscrea form part of the Turas Nua Ltd Consortium who have been selected to deliver the Jobpath programme in the Southern half of the country for the Department of Social Protection.

Subject to the final contract being signed, this is likely to result in Roscrea being the head office for the southern region bringing up to 500 employees with their head office expected to be located in North Tipperary.
The preferred bidder status of FRS is something that I expect will bring significant jobs locally. FRS are an excellent local company, based in Roscrea and have teamed up with a UK company to deliver a major programme to help the long-term unemployed. I would like to particularly congratulate and commend their CEO Colm Donnery, in what is a major local success story.

This shows the strength of local businesses in Roscrea and the potential to have success stories locally. Roscrea has been underinvested in for generations and this news should provide a welcome boost for the town with the potential to have 80-100 jobs based there.

Turas Nua is a new business and is a joint venture between FRS Recruitment (a co-operative recruitment company based in Roscrea) and Working Links (a UK-based well-established provider of employment services to long-term unemployed people). Turas Nua Limited will operate in the southern half of the country including towns and cities such as Cork, Limerick, and Waterford but their head office will be based in North Tipperary.

Under JobPath, the two preferred bidders, Turas Nua Ltd and Seetec Business Technology Company Ltd, will provide additional employment services which will augment the Department's own employment services.

Between them, the preferred bidders will provide 1,000 additional staff in approximately 100 outlets across the country to assist the long-term unemployed in finding suitable employment and training options.

The two preferred bidders were selected following a public procurement competition conducted in accordance with EU and Irish public procurement rules.

Subject to successful finalisation of contracts, it is anticipated that JobPath will commence in the first half of 2015.

JobPath contracts will be for four years with an additional two-year run-out period (to cater for jobseekers who are referred towards the end of the programme).

The providers will work with a range of local subcontractors, including local training companies and Local Employment Service (LES) providers, in the delivery of JobPath.

In designing JobPath, the Department of Social Protection has taken extreme care to ensure that value for money is achieved and that problems experienced with similar programmes elsewhere are avoided.
Permanent link | Categories: