Blog Categories
Entries matching the category "maureen%20o%27donoghue"
Posted on March 30, 2009 by Alan Kelly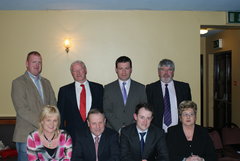 Tonight I attended the Labour party's Cashel convention that selected Cllr. Paddy Downey as our candidate. Paddy is a fine candidate and a great local community activist across a broad range of activities.
The convention, which had approximately 100 people in attendance was chaired by my colleague Sean Sherlock TD. Senator Phil Prendergast, Cllr Darren Ryan and Cllr Maureen O'Donoghue also spoke at the convention. Many people spoke of their admiration for Maureen as she is standing down from Cashel Town Council after many years of service for the Labour party.
Its very important that we win back our seat in this area and I'm 100% behind Paddy and I look forward canvassing with him over the coming months.
Permanent link | Categories: Paddy Downey. South Tipperary • Phil Prendergast. Darren Ryan • Sean Sherlock • Mick Byrnes • Maureen O'Donoghue