Blog Categories
Entries matching the category "president"
Posted on October 31, 2011 by Alan Kelly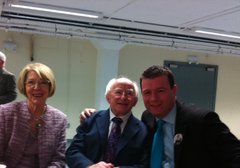 I must congratulate Michael D. Higgins, our President Elect on his fantastic victory. 
My colleague and friend Michael D. Higgins is a man of huge courage, conviction and vision. He has always been a hero of mine and an inpiration to me and that's why I am so proud of his victory in this Presidential election. Michael D helped and encouraged me to get into electoral politics with the Labour party when I first got elected to the Senate in 2007 and I will never forget him for that.
Permanent link | Categories: Alan Kelly • Michael D Higgins • President