On the Canvass Trail in Limerick
Posted by Alan Kelly on February 14, 2009 at 10:36 PM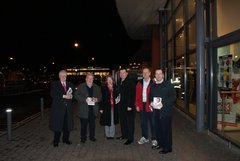 I was canvassing in Limerick city with many of my colleagues recently. The response was excellent and I was very encouraged by it. Its very easy to canvass with my friend and colleague Jan O'Sullivan, as she is very popular with the locals in Limerick. I was also out with Joe Kemmy, Jim's brother, which is always a pleasure. I was always a huge admirer of Jim Kemmy. He was a man of huge integrity and kept his values and beliefs throughout his political life.
I was also out with the former mayor of Limerick Joe Leddin and Cllr Thomas Hannon. Two great friends of mine, who are always there whenever I need something. There is a great organisation in imerick and I'm delighted with the way they treat me as one of their own. I'm on the border with Limerick and I have worked closely with the lads ever since Jan's by-election victory in 1998. Limerick has excellent local election candidates, John Ryan, Tom Shortt (Pat's brother), Ginger McLoughlin and his daugher Orla. We also have DErek Mulcahy and Elena Secas who I expect great things from.
As someone from the Mid West, I am well aware of the hit it has taken in recent months. We need to see new initiaves to save jobs and provide new jobs for the area. The task force that has been put in place is welcome, however I feel that it needs Government support to address many infrastructural issues quickly, such as broadband. It is only through this that we can stimulate and develop new indigenous industries, which are the future. The loss of jobs in Limerick has a wider impact across the Mid West in North Kerry, West Limerick, Clare and North Tipp and its important to ensure these areas are covered by the task force.
Permanent link | Categories: Enterprise Trade & Employment • Limerick • Joe Kemmy • Jan O Sullivan • Joe Leddin • Thomas Hannon • Mid West. Limerick • North Tipp • North Kerry